MEDICA 2023 kicked off on November 13th in Düsseldorf, Germany, bringing together thousands of exhibitors and attendees from across the global medical technology landscape. As a leading manufacturer of cutting-edge medical devices, Micron Solutions is thrilled to have participated in this premier industry event.
For over four decades, MEDICA has cemented its reputation as one of the world's largest and most impactful medical trade fairs. This year, over 5,300 exhibitors from nearly 70 countries converged to showcase the latest innovations shaping the future of medical technology.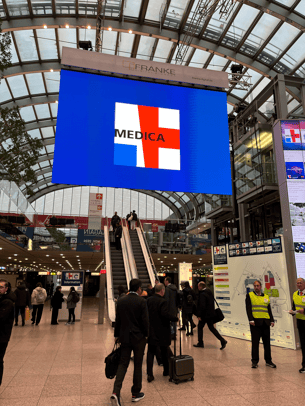 Attending events like MEDICA is a priority for Micron Solutions as we look to reinforce existing partnerships, forge new connections, and stay ahead of the curve when it comes to the competitive medical device market. We used our brief time at this event to speak with the brightest people in the industry so we can cater our capabilities to the changing needs and standards of medical devices.
We enjoyed attending sessions led by respected thought leaders and health innovators from around the world. By engaging with their diverse perspectives, our team returned home armed with fresh ideas and inspiration to keep pushing boundaries.
As a U.S.-based company, joining MEDICA also represents a valuable chance to connect with our International partners and customers. We pride ourselves on maintaining a global mindset and presence. Events like MEDICA are the perfect venue for strengthening these critical relationships as we work to better serve our worldwide partners.