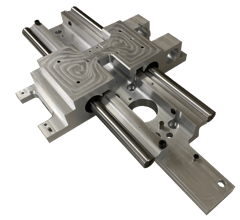 A women's health technology company focused on devices for diagnostics, surgery, and medical imaging turned to Micron for manufacturing and assembly services. Following product launch with a different manufacturing partner, this medical OEM was seeking a more personalized, cohesive relationship with a partner that would be flexible and adaptable as their production needs evolved.
The slide rail is a custom extruded aluminum precision ground case, hardened with tapped holes to be precision machined at Micron per customer specifications, including chemical conversion coating which is outsourced to a local supplier. Dowel pins, screws, bearings, and other sourced components are inspected at arrival, along with in-process inspection throughout the manufacturing process.
Assembly is completed by Micron technicians by following detailed internally created work instructions and guidelines. After QA checks are cleared, all assemblies are bubble wrapped, boxed, and shipped directly to the customer just in time for their final assembly and test of their finished device.
Companies partner with contract manufacturers for a variety of reasons; Micron was able to readily scale production to meet fluctuating volume requirements and accommodate revision changes. They offered vertical capabilities and unmatched depth of manufacturing expertise to ensure production was achieving PPV objectives, making them an obvious choice as a contract manufacturing partner.