Over the course of a 20-year relationship, Micron has been a source of stability throughout one company's journey from small medical equipment supplier to innovative global leader.
Outsourcing molding, machining, and assembly operations to Micron nearly two decades ago, empowered this customer to focus on business development and growth, eventually resulting in an acquisition by a Fortune 500 medical equipment producer.
As their needs evolved, Micron's flexible production capabilities provided stability for ongoing manufacturing operations. Legacy products were phased out and new product lines were launched, which caused fluctuating volumes that could be challenging for some manufacturers.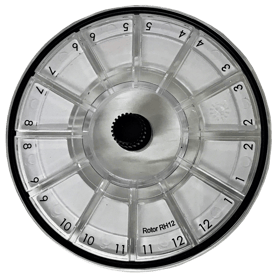 Micron leveraged strong sourcing and purchasing relationships with suppliers to ensure they had what they needed when they needed it, remaining consistent in delivery and production as the most reliable link in their supply chain.
Today this global medical and veterinary OEM trusts Micron to manufacture and assemble components for equipment found in a variety of laboratory settings, including this rotor cover assembly for a centrifugal fluid separation device.