Applying automated technology is an area of special expertise at Micron, and for one automotive OEM the careful assessment of automation opportunities led to improved ROI for two similar product lines with differing production needs. This client came to Micron seeking injection molding for two similar clips used in seat assembly: Clip A and Clip B.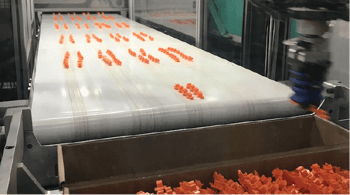 In both scenarios, the part is demolded, deposited onto a conveyor, visually inspected, and packaged. Initially, Clip B was produced as individual pieces in the same manner as Clip A, then shipped to car seat factories where operators would snap four individual clips together manually and apply foam. Incorporating this assembly sequence into the manufacturing process reduced the amount of labor and time required when the clips were put into use.
Automated assembly processes were developed to connect the clips after molding. Clip A is then deposited onto a conveyor in connected strips. Each subassembly is visually located by cameras and retrieved by a six-axis robotic arm with soft tooling for maximum dexterity. For Clip B, the parts are molded and sent down a conveyor into a bin, where they are hand-counted and packaged into boxes manually.
While many manufacturers would apply identical production methods, the team at Micron discovered an opportunity to increase efficiency and improve overall ROI by applying unique, semi-automated production lines for each style.