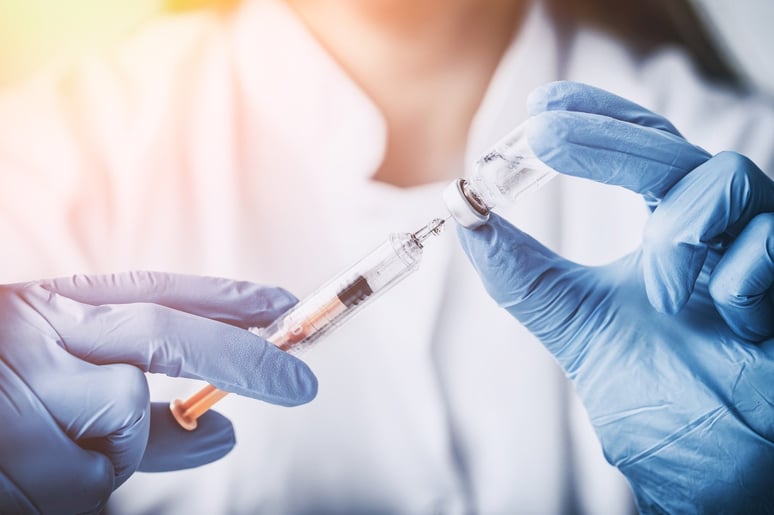 Medical device injection molding is used in everything from syringes to IV roller clamps to dialysis machine components.
While you must ensure that your medical device is manufactured to FDA standards and is ISO 13485 compliant, you also need to be certain that the company you select is the right one for your needs. A great medical plastic molding partner is indispensable, as they can help you ensure your part cost stays low while maintaining the highest standards of quality. Below, we've outlined a few things to keep in mind during the selection process.
Considerations When Selecting A Medical Device Injection Molding Partner
1. Cleanroom Requirements
Depending on the function of your plastic part, you may need to ensure that it is manufactured in a cleanroom. Cleanroom molding is the process of creating plastic parts in a special room optimized to reduce the risk of contamination by dust or other particles. Cleanrooms have a constant positive air flow, use electric (not hydraulic) machines, and are devoid of any corrugated material that could cause dust, all in an effort to ensure cleanliness. It may, for example, be necessary to use a cleanroom for your medical plastic device if the part is implantable, will come in contact with bodily fluid, or will be used in an operating room.
If your device does not need to be cleanroom manufactured but does require a more controlled manufacturing environment, look for a partner that is flexible with their manufacturing environments. Micron, for example, has a Class 7 Cleanroom, but can also use mobile enclosures over the plastic molding machine (by placing a curtained device over the area that offers positive air flow) and have machine operators wear a hat, gown, and mask.
2. Your Product Performance Requirements
A medical device injection molding partner should be able to assist you in determining what raw materials you need based on the specifications of your product. For example, if your medical apparatus will not be implanted nor come into contact with a patient's bloodstream, your plastic injection molding partner should steer you away from a Class 6, implantable-grade material and toward something more appropriate for your needs and less expensive. Or if you're creating a dental tool with a colored handle, the partner you speak with should ensure you select the right FDA-approved, food-grade-contact material.
3. The Injection Molding Company's Area of Expertise
Bigger is not always better when it comes to the size of your injection molding company—but attention to detail and an emphasis in the area you're working with are critical.
Whether you need to create a smaller batch of specialized plastic parts or millions of plastic parts each day, you'll want to find a medical molding company that has a solid track record for producing high-quality parts similar to yours.
For example, here at Micron, we are very effective at producing high-volume medical disposables due to our robust manufacturing process. In fact, we manufacture billions of parts used in medical devices each year. Our vast experience in process validation for medical plastic injection molding has given us deep insight into the nuances of the production process. We are constantly finding new ways to control the flow of materials, and we use automation throughout the entire manufacturing process (including inspection and packing), which enables us to pass cost savings along to our customers.
If you are searching for a medical injection molding partner and have some questions you'd like to get answered, contact us—we'll get back to you right away.