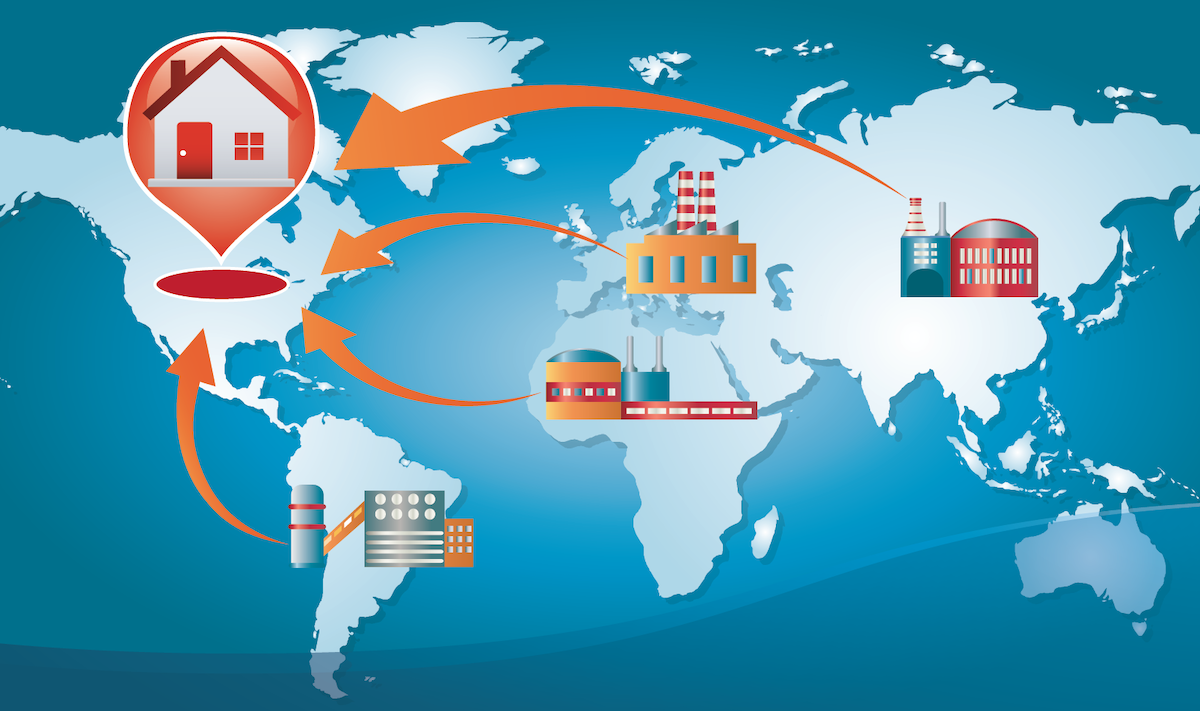 Reshoring is the act of bringing manufacturing jobs that had been previously exported to foreign countries back to the United States. On a national scale, returning jobs to the United States combats high unemployment, reduces trade and budget deficits, and bolsters the economy. Locally, manufacturing companies also benefit from reshoring by being an employment opportunity creator in their respective communities, but most notably benefits by reducing their products' total cost and improving their balance sheets.
The Hidden Risk of Offshoring
At a macroscopic level, offshoring boils down to one thing: value. Companies are often attracted to foreign manufacturers due to the low per-piece cost of labor-intensive components and assembly services. But the appeal of offshoring diminishes when viewed in the context of the associated expenses and obstacles— things like tariffs, heightened shipping fees, communication or scheduling barriers, and laborious inventory management. As wage standards increase globally, many have concluded that domestic production's multi-faceted advantages often outweigh the perceived benefits of offshoring.
The upheaval of 2020 proved to be a perfect case study highlighting the shortfalls of outsourcing. As the Covid-19 pandemic's effects began to take full effect, it became apparent that there would be a considerable constraint on the global economy. Many manufacturers were forced to temporarily shut down or reduce output. At the same time, PPE and other medical equipment quickly became the de facto priority in international shipping, rendering all other goods secondary. Manufacturers of all sizes experienced disruptions in their supply chains – whether it came in the form of extended lead times on parts, delays in material availability, or total disruptions in supply. While rare, this instance exemplified how fragile a supply chain leveraged on outsourced goods and services can be.
Reshoring In Action
Throughout my career, I have gained decades of experience leading or playing a key role in reshoring initiatives. I recently met with Harry Moser, president of the non-profit Reshoring Initiative, to discuss how the benefits of reshoring could apply to Micron's clients.
The conversation produced two themes: keeping costs low and investing in local manufacturing. By keeping manufacturing jobs in house, Micron can have greater control over the production process and streamline costs. When this combines with process automation investments, the result is a highly cost-efficient producer that can offer competitive prices compared to both domestic and foreign manufacturers.
The second theme, keeping the supply chain local, is equally important. Labor is undeniably expensive in the United States, but the benefits of having a domestically sourced supply chain have recently proven to be invaluable. Manufacturers like Micron face fewer disruptions in a domestically sourced supply chain, which directly translates into a steadier production process and ultimately greater reliability with customers.
What Makes For Successful Reshoring?
One of the most significant obstacles any company faces during a reshoring initiative is the logistical challenge of smoothly transferring operations to a new manufacturer. Successful reshoring requires careful planning and a rigorous Quality Management System (QMS) in place to ensure quality policies are implemented, followed, and maintained. Without this critical element in place, we run the risk of creating a transfer of production that is non-compliant to current standards.
This attention to compliance is particularly important when transferring operations manufacturing FDA-regulated medical devices. Anytime manufacturing equipment is moved it must be re-validated. Since equipment transfers are rarely performed flawlessly, it is vital that safety stock is built up before the transfer begins to cover demand while the reshoring effort takes place. Another factor that must be considered is whether they have the technical expertise to ensure repeatable processes that will produce a high-quality product at a competitive cost, whether they are transferring in-house or to a domestic contract manufacturer.
The most successful reshoring projects I have participated in have always included a dedicated transfer team comprised of manufacturing engineering, planning/demand planning, procurement, shop floor operators, and quality/regulatory representatives. A good plan should include a detailed project document with defined milestones and due dates, developed by a project leader with input from all the functions listed above. If possible, the project team should visit the incumbent supplier and develop a current-state value stream map.
Contract Manufacturing Will Play A Critical Role In Reshoring Renaissance
Typically, offshoring has attracted manufacturers due to the low cost of labor but as the global economy levels out labor rates will continue to rise, further weakening the main argument for offshore production. A survey of over 700 North American manufacturers showed that nearly ⅔ of respondents were "likely or extremely likely" to reshore operations following their experiences in 2020.
These reshoring efforts will undoubtedly rely on contract manufacturers, especially in cases of heavily regulated industries or companies developing fledgling in-house production operations. A pre-existing skilled workforce and the ability to automate processes, both strategies applied at Micron, can help mitigate some of the touch labor costs. The other advantages of domestic contract manufacturers— shorter lead times, improved product quality, and reduced risk of IP theft to name a few— present a compelling case for OEMs to begin planning their reshoring transition today.
Are you bringing offshore molding, machining, or assembly operations back to the US? Contact Micron today and work with a team that has the experience and skill to execute a smooth and uninterrupted transfer of operations.